Changing the Narrative: Understanding and Celebrating UK Black History Month in Schools
October is Black History Month, a time dedicated to honouring and learning about the achievements of Black heritage in our country. A few weeks ago we caught up with Catherine Millan and Kemoy Walker, professionals in the education sector, who provided their insight on understanding and celebrating Black History Month in schools.
Catherie Millan, is the founder and director of "Be What You See", a consultancy firm dedicated to training adults and children on inequality, diversity and inclusion, and former Student Recruitment and Widening Participation Officer at the University of Manchester. She is also currently involved in the Anthony Walker Foundation, where she provides anti-racism consultancy.
Kemoy Walker is a pastoral leader and Head of Year 7 at Oasis Academy Media City, and founder of "Where Young People Thrive", a supportive organisation that helps break barriers among young people as they participate in a range of creative activities, including drama or music, and confidence-building workshops.
Catherine Millan, Be What You See Consultancy
I grew up in a place called The Wirral, in Merseyside, right next to Liverpool. I was always the only black person in my area. I came from a single-parent household, and I was a carer from the age of 14.
I have always had this sense of feeling different and understanding disadvantages. That motivated me to educate myself and make the most out of every opportunity. When I was 18, a young man called Anthony Walker was the victim of a racially aggravated murder in Liverpool. It happened 20 minutes away from where I live, and it was the first time I experienced racism at that level, which made me realise how bad racism was. That sparked a passion in me to build a career working in spaces and environments that are actively aiming to reduce inequality.
I was a carer for my mum, who suffered from mental health, which also sparked my desire in neurodiversity. I went to university and got a degree in Education, followed by a master's in Voluntary and Third Sector Management.
I worked in Southeast Asia, South America, and eventually Nigeria doing my teacher training and helping schools enhance their curriculum. I then started to work at the University of Manchester helping young people from Black, Asian and Ethnic minority backgrounds reduce barriers to their education.
Fourth months into that role, the Manchester Arena attack happened, which triggered different emotions in me. This ignited another passion in me to work on projects that reduce hate crime more broadly. I am also LGTBQ and was recently diagnosed with ADHD, so I felt like there were not many projects that supported young people on all these matters.
I now run my own consultancy firm, and I have created a programme about reducing hate crime in schools and communities, and training involves neurodiversity, racism, and more. I have worked in universities and schools, and I have seen first-hand discrimination, and how racism can manifest and get worst if it's not addressed in schools.
My work at schools involves a lot of prevention work, and increase awareness of neurodiversity, mental health, and discrimination.
When you hear Black History Month, what comes to your mind?
I have always been very passionate about Black History Month. Part of my role at the university of Manchester including my putting together a variety of activities and events for schools to ensure Black History Month was celebrated.
As a Black Woman myself, I reflect on my time at school, and I never saw anybody that looked like me represented in literature. The only thing that was taught was about slavery and was taught from a very Eurocentric perspective. It became a very hard topic to talk about.
How do you think schools and businesses should be celebrating black culture?
I feel passionate about changing the narrative through Black History Month, I think that's the key. It's about finding the little hidden history that we don't usually talk about or changing representation in a way that highlights the true diversity of the subject being taught.
 I have had amazing opportunities to get involved in different projects, one of them involving writing a book about the life of Sister Rosetta Tharpe. She was the original gospel soul singer, even before Elvis Presley. She felt a lot of struggles and difficulties throughout her career, and for me, she's just inspiring. We also look at modern-day black people that have achieved great things and find inspiration in them.
I use this month to put together packages for schools and help them come up with the best ways to celebrate Black History, as well as diversify their curriculums and teaching programmes.
How can schools embrace Black History Month all year round?
It's about embedding black history in the curriculum and looking at migration more broadly. It's also important to find local stories and pioneers that have done amazing things for the community. I also recognise that as a teacher, there are not enough hours in the day, and should be allowed time to make these changes.
One of the things I did at the University of Manchester, that helped decolonise the curriculum, involved doing a curriculum "health check", where the program is thoroughly reviewed and shown where there is diversity. If there isn't any, I would help them identify key areas.
If you are teaching something like physics and think "how can I diversify it" consider who are the physicists you are teaching about, as well as the authors of the books from the reading list.
Kemoy Walker, KYSO Where Young People Thrive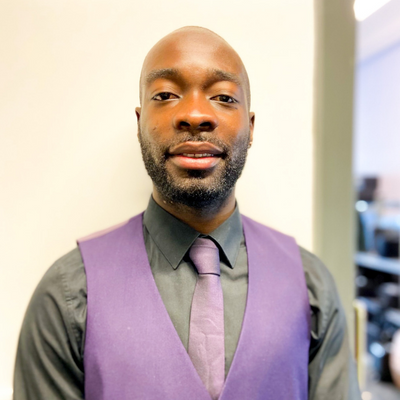 Please can you tell us about yourself, your work and why you choose to mentor young people?
There is so much to tell… I came to this country from Jamaica in 2012, and I lived in Moss Side at the time, which was known as a very dangerous area to live in - I didn't know that at the time. I started to see things as time went on and made me realise, I wanted to work with the youth and in the education sector, at the same time.
Working with the youth is how you can make a difference. There are many jobs available, but you don't touch lives as much as if you were a teacher or a youth worker. You inspire them, and you give them hope. That's amazing.
When you hear Black History Month, what comes to your mind?
Black History Month means celebrating black people's achievements and black people's successes internationally and locally. I love it. It's time to celebrate.
In Manchester, there are a lot of events happening during Black History Month, but I feel like this should not be celebrated in just one month. One of the kids I coach said to me "Why do we celebrate one month of Black History Month? Why do we only celebrate one day of Mother's Day? Why do we celebrate only one day of Father's Day?" We should be appreciating those people every day, and he couldn't be more right.
How do you think we should be celebrating black culture?
I feel like when schools have more representation of black staff and black teachers, they will be able to hit the nail on the head. There are many schools that don't do anything for Black History Month, or others even find it a touchy subject, so can be scared to talk about this. And I fully understand that, as they don't want to offend anybody.
What do you do in your school and your wider community for Black History month?
Each week we have done something different, except for half term.
Before Black History Month I had a meeting with the headteacher and expressed my interest in different activities I wanted to do. So, I created a timetable for each week. During the first week, the main message was to "gather kindness and show love". The students introduced Black History Month to their colleagues through assemblies, and we had the performance of a local rapper and a local dancer. We also cooked some cultural food and the Afrobeats culture of dance was taught to students.
In week 2 we looked at local heroes in Manchester, and the message was "community together". We run a fashion show where cultureville, an African boutique, lend us some traditional attires that students wore and modelled in a fashion show.
In week 3, the focus was on national heroes around the world. The main message was "one world, diversity and peace", and we had different black inspiring speakers.
There wasn't anything scheduled in week 4 this year, due to half term.
What message do you have for young black/mixed race men and women?
"Believe you are resilient. If you come across a situation that is discriminating against you, call it out and make sure you act upon it. Stay strong, work hard and persevere, and you will be the best version of yourself."
How can schools embrace Black History Month all year round?
An idea would be for schools to partner with other schools and plan activities. Also, they should actively recruit black staff, which would create a diverse atmosphere that can bring new perspectives and ideas.
We're passionate about building thriving communities of healthier, happier people. Getting together with others improves mental and physical wellbeing, boosts confidence, cures loneliness and helps people feel more positive about life.
That's why we started Vivify. Our easy-to-use booking platform makes it simple for people to find local spaces to get together, whilst also helping to provide much-needed funding to schools.
If you are looking for a facility near you for your next sport, event or game visit here.
Or if you are a school interested in letting your facilities out, visit here.
Back to articles